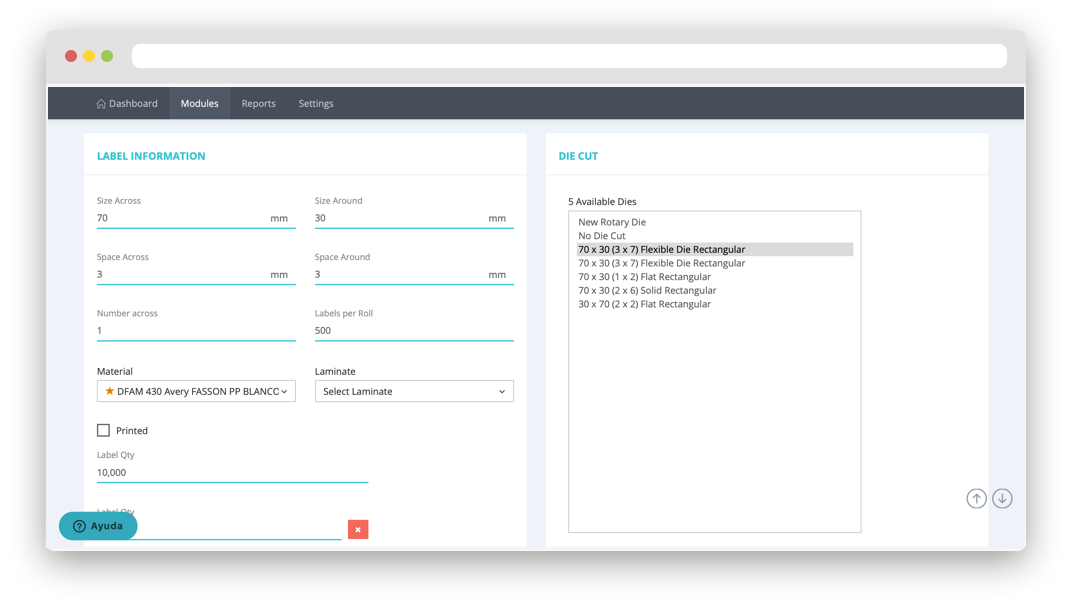 Estimating Software Solution
Madiwor's estimating solution is developed around the label industry's products and specifications, allowing you to quote faster and win more business.
All your Estimates in One Place
All production jobs are stored and can be retrieved at any moment. Productions Jobs can be also printed in case you need to provide a copy to the operator or choose to browse it digitally in a computer or mobile device.
Store & Retrieve Previous Estimates
In case your company provides integrated solutions including barcode printers and thermal transfer ribbons Madiwor offers a solution to manage these SKUs as well. Sales Orders containing these product will generate not a production job but a re-sale order. This will appear pending to dispatch in the dispatch module until this arrive or are retrieved from stock.
Turn an Estimate into a Quote
An amazing commercial tool that lets you send professionaly looking quotes and improve your customers experience. Let your customers accept directly from your Quote. Add optional or multiple choice items calculating prices dinamically. Know when is the best time to call and follow up your business opportunities. And more...
Discount scale.
Calculate multiple quantities to quote discount scale. Get the right information and offer your customer the best cost alternative for their labels.
Understands your Company
Our estimating solutions it is setup based on your equipment, capabilities and costs. Understanding the better workflow for each job based on the customer needs and maximizing profitability.
Team Colaboration
Estimates can be integrated in to your company´s workflow. Assign permission within your team and let your commercial departement calculate price estimates instantly and win more business. Estimates can wait for you approval. Notes and comments can be added to each estimate to keep record of any important details or references.
Software Highlights
Production Module

Production Planning, Daily Reports, Production Jobs Management

The user interface is extremely easy and intuitive. The production plan shows a colored graph where you can quickly visualize the general status of the resources required for each work order. By automating the update of this indicator, Madiwor fully enhances the communication within the company.
Raw Material Inventory

Raw Material Inventory, Roll Cut & Traceability

The great thing about this module is the not only it allows you to cut rolls into the size required by each order but, it lets you have them assigned to a production job or to the stock. This reduces scrap, saves time when retrieving inventory and automates the need to trace any material used.
Accelerate productivity
Our software is specially designed to be intuitive and easy to use.
It assists your organization in key processes. Madiwor understands the challenges and provides the best solution.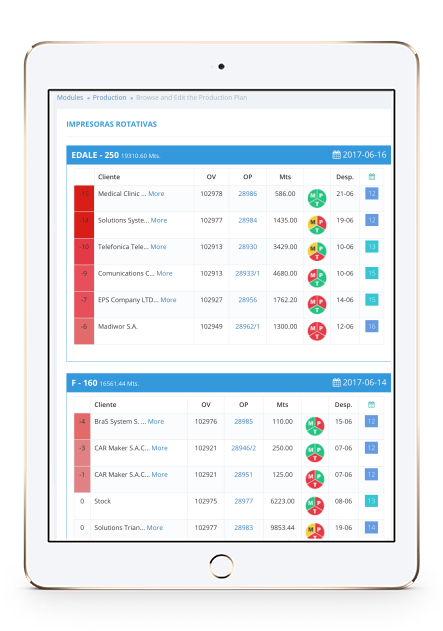 Cross-Platform
Madiwor provides perfect and flawless compatibility between all platforms.
Mobile
Madiwor turns your mobile device into your portable production office. You can browse production jobs, check for new sales orders to produce, monitor in real time your presses or check the dashboards no matter where you are.
Get Time On Your Side
Saves time needed for setup and training. Madiwor is already running.
Minimum Training
Easy to Use. Intuitive modularity improving the user experience.
Eliminate time Consuming Tasks
Eliminates the burden of upgrading, maintenance, and safeguarding data.
Increase Efficiency
Cuts operational costs. Plus Madiwor costs less compared to on-premises systems.