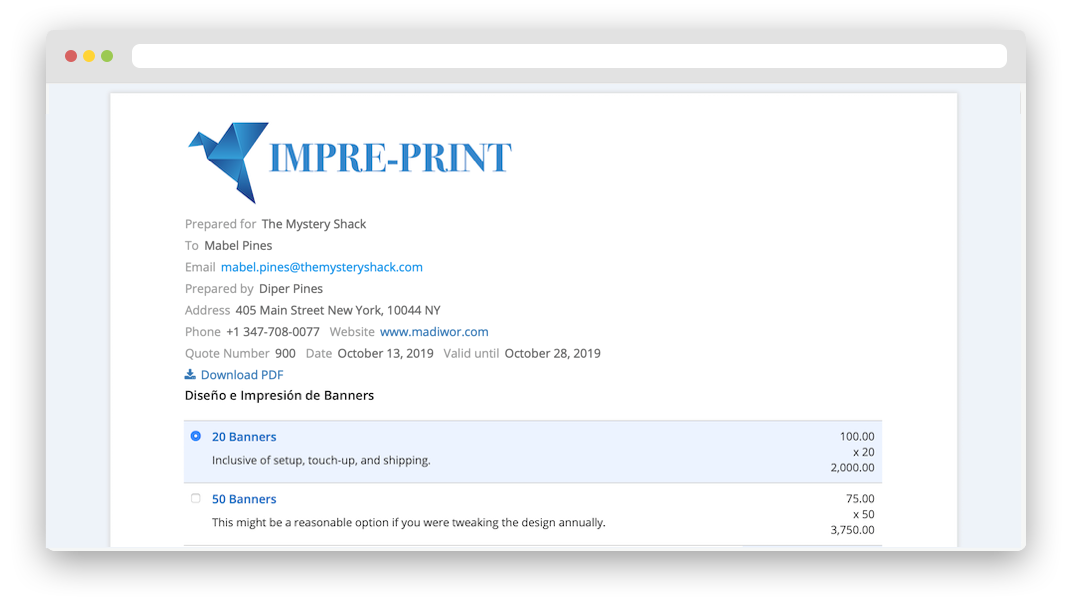 Madiwor Quotes
An amazing commercial tool that lets you send professionaly looking quotes
and improve your customers experience
Online Acceptance
Let your customers accept directly from your Quote.
Optional and Multiple-choice Items
Add optional or multiple choice items calculating prices dinamically.
Open Confirmation
Know when is the best time to call and follow up your business opportunities.
More Information
Expand the information available to your customer by attaching images and documents to your quote.
Personalized Design
Customize the quote with the style and image of your company.
Make it easy with Templates
Create templates to ease the creation and delivery of quotes.
Why Madiwor Quotes
Easily add images, files or links to websites directly in your Quotes. Give your customers all the resources to take a decision.
With Madiwor your quotes will look awesome! Stop searching among your emails to retrieve previous quotes. Madiwor can give you the advantage you need over your competitors.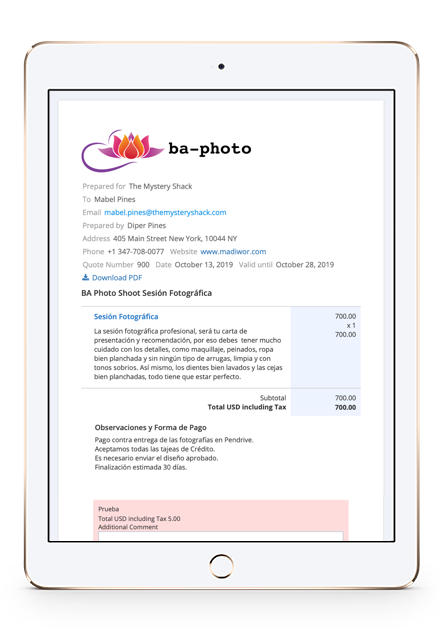 Cross-Platform
Madiwor provides perfect and flawless compatibility between different platforms.
Mobile-Optimized
Madiwor´s design allows to use it on any device.
Q&As
Your customers can send you questions and comments directly from the quote
Minimum Training
Easy to Use. Intuitive modularity improving the user experience.
Online Confirmation
Your customers can accept and confirm directly from your quote.
Follow Up
Know when is the best time to contact your customer and follow up.
HIGHLIGHTED FEATURES
YOUR QUOTES WILL LOOK AMAZING!

CUSTOMIZE QUOTES FOR YOUR BRAND

Let your customers receive and access your quotes online on any device. This is much easier for your customer. Attach easily images, files or links to websites and directly into your Quotes. Give your customers everything they need to make a decision.
Templates

CREATE TEMPLATES FOR FREQUENT QUOTES

Using the templates functionality you can easily generate new quotes with preloaded information, custom fields, items, notes and observations.
Subscribe to our Newsletter
Keep up with our always upcoming product features and technologies. Enter your e-mail and subscribe to our newsletter.