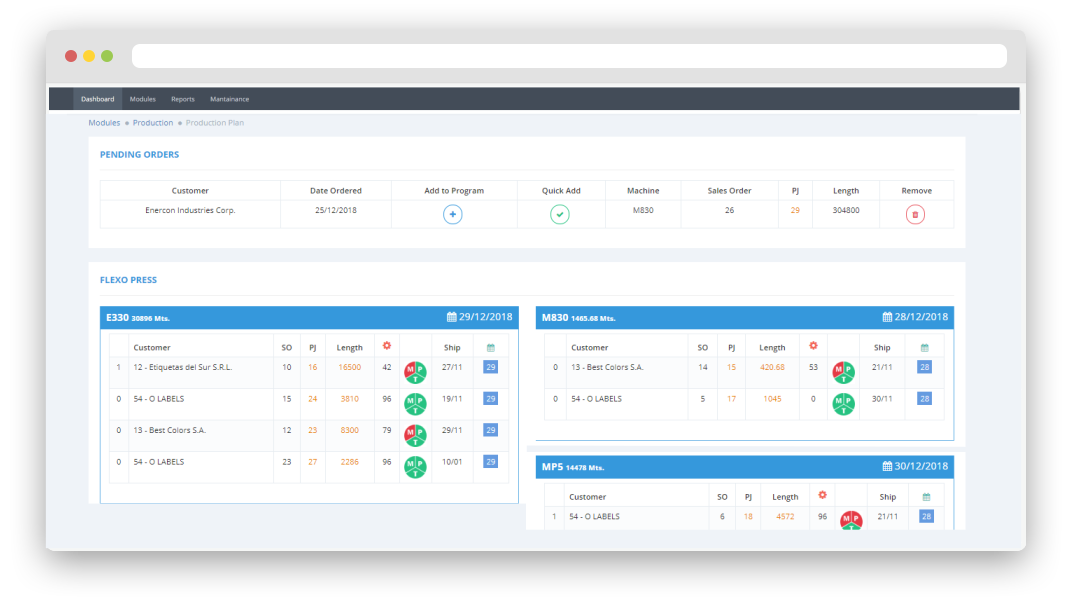 Madiwor Features
Madiwor is the first cloud based software solution designed for label manufacturers.
Our main objective is to provide a high-end automation solution for small and mid-sized businesses
Browse and plan your production orders on your machines and share the information with your team.
Estimating
Create price calculations based on your resources, store your price calculations and authorize when ready.
Raw Material Inventory
Track and identify raw materials through the complete production process.
Finished Product Stock
Manage a precise finished product inventory, share this information with each customer through the extranet module.
B2B eCommerce
Madiwor´s Extranet functionality is the best way to develop customer loyalty.
Material Cut and assignment
Assign jumbo rolls to production orders, cut rolls as required to optimize utilization.
Why start using Madiwor?
Our software is specially designed to be intuitive and easy to use.
It assists your organization in key processes. Madiwor understands the challenges and provides the best solution.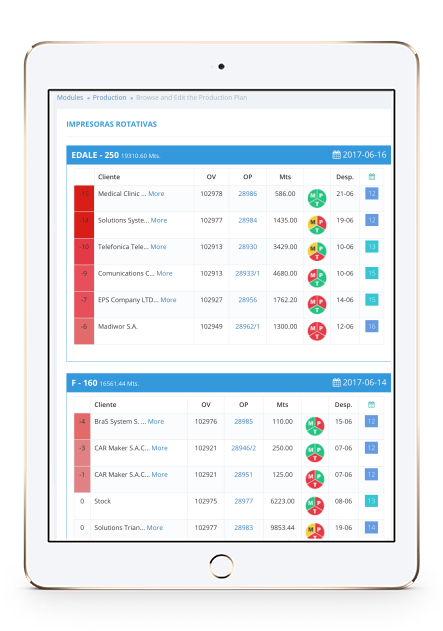 Cross-Platform
Madiwor provides perfect and flawless compatibility between all platforms.
Mobile-Optimized
Madiwor´s design allows to use it on any device.
Get Time On Your Side
Saves time needed for setup and training. Madiwor is already running.
Minimum Training
Easy to Use. Intuitive modularity improving the user experience.
Eliminate time Consuming Tasks
Eliminates the burden of upgrading, maintenance, and safeguarding data.
Increase Efficiency
Cuts operational costs. Plus Madiwor costs less compared to on-premises systems.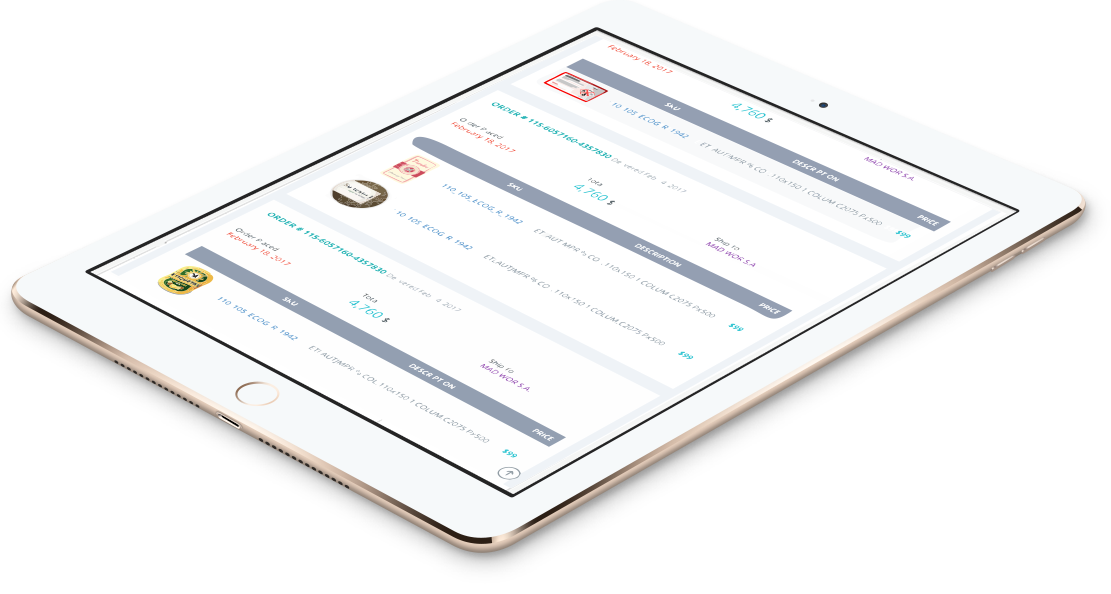 B2B Store Fronts

Customers have access to a customized e-commerce application.

My Orders & Specs

Allow customers to check order status, browse order history and product specifications.

Re-Order & Quotes

Through the extranet your clients are able to re-order and send pricing requests.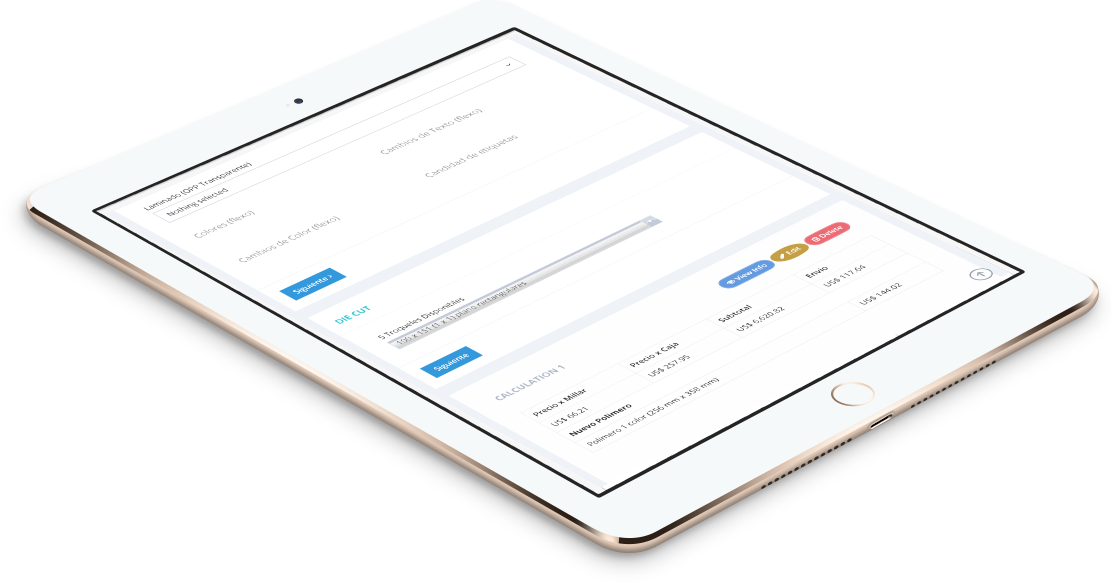 Price Calculations

Create price calculations based on your resources and costs.

Compare & Analyze

Put together different alternatives to find the best alternative to your customer.

Store & Retrieve

Analyze new price calculations based on previous estimates and similar pricing strategies.
Module Highlights
Production Module

Production Planning, Daily Reports, Production Jobs Management

The user interface is extremely easy and intuitive. The production plan shows a colored graph where you can quickly visualize the general status of the resources required for each work order. By automating the update of this indicator, Madiwor fully enhances the communication within the company.
Raw Material Inventory

Raw Material Inventory, Roll Cut & Traceability

The great thing about this module is the not only it allows you to cut rolls into the size required by each order but, it lets you have them assigned to a production job or to the stock. This reduces scrap, saves time when retrieving inventory and automates the need to trace any material used.
Real Time Monitor
Using Madiwor Devices you can connect your press to the Cloud.
Access remotely to your production Dashboard & View a Live Monitor of your Machines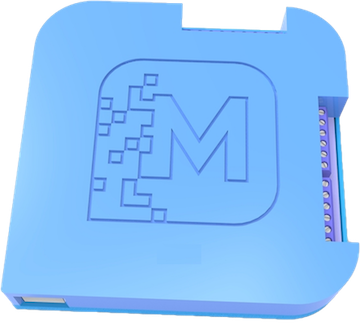 Real Time Dashboard
Updated in Real-time. The Production Dashboard lets you monitor your production status.
Material Processed
Fts or Mts processed.
Current Speed
Ft/min or Mts/min
Average Speed
Average Ft/min. or Mts/min.
Production Time
Total Production Time
Custom Reports by Date & Equipment
Monitor and Compare by reviewing a selected press and date.
Products & Pricing
Features
Quotes
Control Device Access
Estimating
Sales Orders
Raw Material
Production Planning
SKUs Module
Dispatch & Shipping
Daily Reports
Number of Users
B2B Extranet
Madiwor Quotes
Starting $15/month
Labels Estimates
$200/month *
* paid every 90 days
Labels Essentials
Full Management
$375/month *
* paid every 90 days
Subscribe to Our Newsletter
Keep up with our always upcoming product features and technologies. Enter your e-mail and subscribe to our newsletter.